Football ecosystem is moving in the right direction in India and clubs across the globe are looking for opportunities to get into tie ups. This helps the international clubs to scout for talented young players, share the international best practices, build a brand presence in India. The clubs in turn benefit by getting a bigger fan base.
In the recent years, we have seen Premier League, Serie A, La Liga and Bundesliga clubs doing strategic tie ups with Indian Super League teams. In addition to this , many of these international clubs have started academies also in India.
It is great to see well known clubs investing time, effort and money in the Indian market. This will definitely encourage the overall football ecosystem in India. But till now almost all of these tie ups have happened with well established clubs in India who are playing in ISL or I League.
Things are changing and today's announcement by Southampton FC is a huge step forward for the new clubs as well as smaller clubs in India.
Southampton FC statement read: "The club has signed a partnership that will see Southampton FC's Football Partnership team supporting Thane City's development goals over the next three years."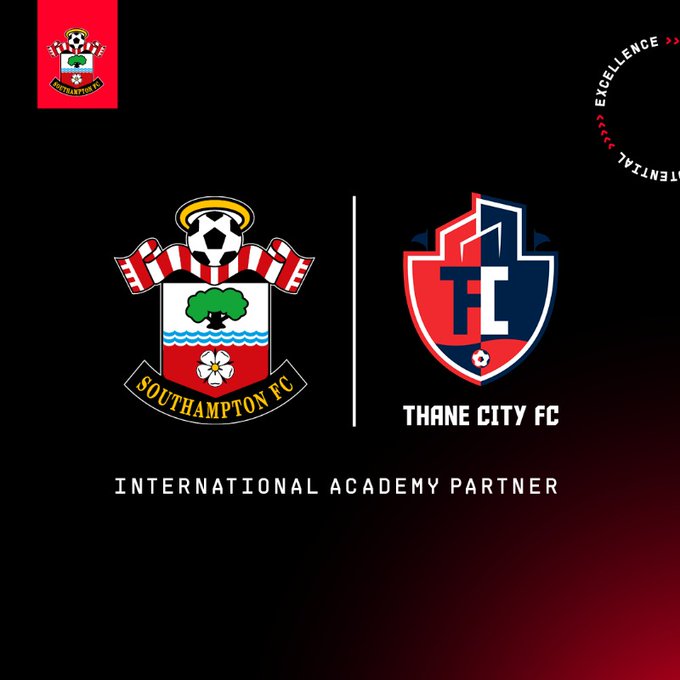 Thane City FC which was started in 2019 is breaking records with this association. Thane City FC would be the youngest club in India to sign up as the international academy partner for a premier league club. It also will be one of the only clubs who are not part of the ISL or I League which have got into such an agreement with an international club.
Southampton FC were formed in 1885 as St Mary's Church of England Young Men's Association.
Over the last 136 years, the club has won several trophies and was also part of the forming clubs which started the current format of premier league. The club, nicknamed Saints, has produced amazing talents. Some of the names include Mathew Le Tissier, Allan Shearer, Gareth Bale, Theo Walcott and many more.
So what is Thane City FC bringing on board to attract a club like Southampton FC ?
I personally feel that the values around which the club was formed would have worked as a major factor. The way in which the club is envisaging to stand out and be different right from start has actually given them the X factor advantage. The passion shown by the people involved with the club has been great. It is all about dreaming big and when you strive towards that , the goals can be achieved. In addition to this, Prashant Singh the co founder of Thane City FC is the go to person who is helping India churn out AIFF licensed coaches at grassroots level. In an interview last year, Prashant had shared his thoughts and ideas of starting Thane City FC and this looks like a major step towards achieving those dreams.
(You can read that interview here: Touch down to touch line: Prashant J Singh, the Football Coach with a dream, ready to take off again)
Thane in the last 7-8 years has seen drastic improvements in football related activities which includes coaching, matches, tournaments, live screenings, etc. There are lot of talented young players who in the long run end up choosing work over football. But with tie ups like this, it will give better exposure and opportunities to right talented young footballers to go behind their dream and achieve them.
Thane City FC is making sure that girls football also gets equal importance. TCFC has been doing various initiatives to create an overall great atmosphere for girls to get into this sport. Southampton FC is also slowly moving up the ranks in Women's football and this can be a great opportunity for young girls from Thane to showcase their prowess.
Southampton FC is owned by Gao Jisheng (80%) and Katharina Liebherr (20%). (Katharina is the daughter of Markus Liebherr who previously owned Southamption FC).
Mark Abrahams, Director of Business & Community Development commented: "Our International Academy Partnerships are built on a shared value in coach and player development. We're delighted to welcome Thane City to the programme and look forward to working with their coaching team and the Thane community over the coming years."
Prashant J Singh, co-founder of Thane City FC said: "This partnership will propel the entire football ecosystem not only in Thane but the entire region. With a residential setup in process, partnering with a club like Southampton was exactly what we needed in terms of expertise, knowledge-sharing, and exchange programs."
Complete Sports Solutions India helped in negotiating this partnership between Thane City FC and Southampton FC.
There is no doubt that this will indeed propel the entire football ecosystem in India. Thane City FC has now got a huge responsibility of showcasing that this association has benefited all the stakeholders. This will give confidence to other clubs to tie with similar young generation clubs in India.
All the best to Prashant Singh and other people involved at Thane City FC for the upcoming years. The journey has just begin and all set to take off…!!!
You can read the detailed announcement on Southampton FC's website.