Sports is one medium which helps billions of people across the globe to hope and dream.
A ray of hope for the parents of a boy born in Chinnappampatti on 27th May, 1991. A dream for a father who helped many people in Hyderabad to reach their destination on time in his auto rickshaw.
Irrespective of the statures, records and unfavorable conditions, as a player, team and a coach you always enter the field with a desire to Win. If you are a neutral fan watching any form of sport, chances will be higher that deep in your heart you will be routing for the weaker team to win though the chances are always slim.
" Can't wait to get you to the Gabba, Ash"
Why and What made Paine say this at Sydney ?
Hoping to get a reaction from Ashwin which may lead to getting his wicket and also with the Hope & Belief that Gabbatoir cannot be breached.
On the other end, Ashwin and Vihari were focused on evading everything that is thrown at them, determined to fight and hoped to take India across the line.
The hope , belief and resilience showed by Vihari and Ashwin at Sydney made a statement. A statement that this Indian team will never take No as an answer. When the Sydney test ended in a draw , both these batsmen, coaching staff, players and fans unanimously said " Yes, Yes , Yes". This is the fighting spirit. We get knocked down but will get up again.
Australia should have by now known what was going to hit them at Gabba. The commentators spoke about 300+ as a safe score to set for India in the 4th innings at Sydney. Now looking back they would be content that some sense prevailed to stretch it to 407.
Pant was on a his way to get India over the line before falling on 97. This definitely would have given a huge sigh of relief for Australia, if not then but surely now after the Gabbatoir got breached.
Many historic games that have witnessed such turn around always started with – "It is Impossible for them to Win / Never in the last 2-3 decades have a team won". This slowly changes to 'what a fight' and then 'are we going to see an upset here for the Champions' and finally 'this is Unbelievable, the New Champions'.
Such Unbelievable encounters , though happen once in a 'blue moon', are full of Stars. It gives Hope to people across generations. Especially a nation like India where as a young boy / girl would have at some point in time held a bat in the hand to complete the playing 11. A country where millions still play under scorching Sun and at some point in time have to choose between chasing their dreams or to start earning their livelihood. To the many who visualize themselves on the ground and a sudden josh runs through the body. A smile will pop up when they see something like this and tell themselves – 'I can see myself in him'.
When India announced their playing eleven at the Gabbatoir, the first comparison was 1013 wickets vs 13 wickets and not to forget an equally inexperienced batting line up barring 3 senior players.
Everyone said 'Welcome to Gabba' but no one thought they would have to add the line 'we are about to witness something special here in the next 5 days'.
"When the Sun goes down, the Star comes out" and literally down under at the Gabbatoir new Stars shined their way to glory.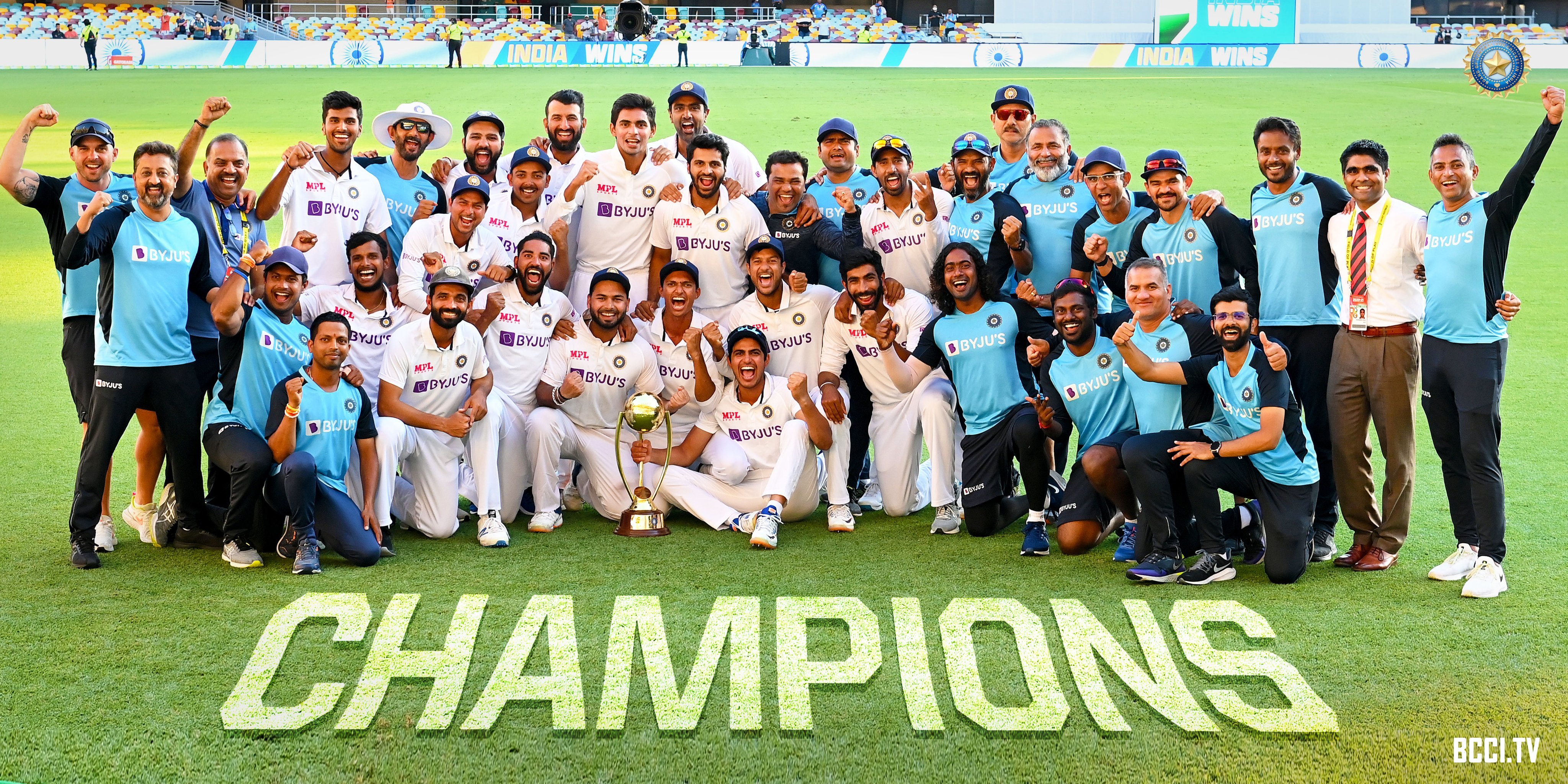 The moment when Spiderman Pant scored the winning runs and Siraj, with the sacrifices made by him, along with other players ran to the ground…
It was time to Stop the press, the Gabbatoir has been breached…!!!
Indian team with New Stars in the making and giving a Hope, that too when there is so much happening around us for the last one year, to billions in India and across the globe.
When a weaker team gets on to the ground, something to fight for… & once again a new Hope & Dream when someone in a village or a city buy, borrow or build a bat & ball and hand it over to their young boys & girls:
Twinkle twinkle little Stars, how I wonder what you are ? …!!!